Each year at the IDTechEx Show!, two companies are honoured for their achievements in developing and commercialising different aspects of wearable technology. This year the awards were judged by Dr Kitty Yeung (Microsoft) & Dr Sandro Francesco Tedde (Siemens Healthineers) with support from the independent analyst team with IDTechEx Research.   As the wearable technology industry matures beyond it's the initial hype, we continue to see developments at both the product and component level that improve wearable offerings on the market. Despite the increasing diversity of entrants, as different aspects of the topic develop and diverge, it was encouraging to once again see a high volume and broad diversity of applicants for these awards. The judges once again expressed the challenge in picking just one winner for each category amongst the many impressive achievements from the entrants.
Best New Materials of Component Development: ITEN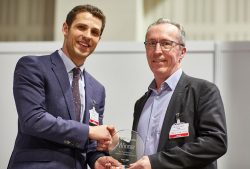 Battery limitations are major impeding factors to wearable developments. With the form of a SMD component, the micro-battery can be easily applied to circuitry without occupying additional or external real estate. The approach should be adopted in PCB design and manufacturing. That said, the capacity and voltage need to be improved to be compatible with many application requirements.